Candles is a photographic essay by Tim Onderbeke. Fascinated by the sacred, ritual, and cerebral act of lighting a candle, the artist began collecting images of candles and candlesticks in an artistic or art-historical context. In Candles, Onderbeke uses his own work and that of others to research what he calls "the colour of darkness," or negative space – a concept he borrowed from the Japanese writer Jun'ichirō Tanizaki.
Tanizaki describes this intense experience he had in a large, dark room of a Japanese tea house where the light of a few candles made the surrounding darkness feel tangible, as if it turned into monolithic matter. Onderbeke sees a burning candle as an implosion of architectural space where the centre is usually kept empty. A burning candle in a dark room reverses that experience, and influences our perception of space, time and atmosphere.
A selection of candlesticks (some from the collection of Design Museum Gent) shown in the book are physically brought together in DING vitrine in a scenography designed by Tim Onderbeke from 24.10.2022 until 27.11.2022.
We will close the last exhibition day festively with a warm drink by candlelight at 16:00.
Candles is available in bookstores or via merbooks.be.
Tim Onderbeke, CANDLES : a photographic novel, MER. (Borgerhoff & Lamberigts), 2022
Candlesticks

1
Christopher Dresser (manufactured by Richard Perry, Son & Co.)
Kordofan (chamberstick), 1883
sheet metal, lacquer, spun brass, wood
14.7 x 19.3 cm
Collection Design Museum Gent

2
Pieter De Bruyne
Candlestick from a dining room ensemble, 1985
gold, silver-plated metal
29 x 15.8 cm
Collection Design Museum Gent

3
Damian O'Sullivan (for Hermès)
Étrier (prototype), 2013
stainless steel
16 x 12.5 cm
Courtesy of Damian O'Sullivan

4
Gerard Kuijpers
Small candlestick, 1991
steel, glass
15 x 7.5 x 6.5 cm
Courtesy of Gerard Kuijpers

5
Gerard Kuijpers
Small candlestick, 1991
steel, glass
37 x 15.5 x 15.5 cm
Courtesy of Gerard Kuijpers

6
Huib Hoste (attributed)
Candlestick from House Lens (Huib Hoste, 1934-1935, Mechelen, Belgium), 1934-1935
black painted and nickel-plated iron, black painted wood
20 x 8 cm
Collection Jos Vandenbreeden, House Lens, Mechelen

7
Paul Felix & Roger Bonduel
Candlestick for the 'Poor Clares' Clares' convent Zonnelied (Paul Felix, 1913-1981, Ostend, Belgium), 1957-1959
aluminium
10 x 13.3 x 6 cm
Courtesy of Sister Trees of the Clares' Convent Zonnelied

8
Tapio Wirkkala (manufactured by Kultakeskus Oy)
TW 189 candlesticks, 1957 (1961)
silver
23.4 x 4.8 cm
Collection Design Museum Gent

Photos

a
Unknown
Historic photograph showing modernist candelabra in the interior of House Lens (Huib Hoste, 1934-35, Mechelen, Belgium). Pictured: Mrs Joris Lens (Juliette Goossens) and 2 of her children, Karl and Christine Lens, c. 1940
reproduction, wooden frame
12 x 7.5 cm
Courtesy of Family Lens

b
Unknown
Historical photograph of bronze candlesticks by Le Corbusier in Couvent Sainte-Marie de La Tourette (Le Corbusier, 1960, Eveux, France), c. 1960
gelatin silver print, wooden frame
19 x 27 cm
Courtesy of Tim Onderbeke

c
Tim Onderbeke
Kandelaar I (diptych), 2014

Tim Onderbeke
Kandelaar I (sculpture to study light and shadow), 2014
glass, steel, rubber, handmade candles
16 x 122 x 67 cm

gelatin silver print on resin coated paper, wooden frame
24 x 15.8 cm (2x)
Courtesy of Tim Onderbeke

d
Tim Onderbeke
Digital image processing of a film still of Vremena Goda (eng: The Seasons / Four Seasons / Seasons of the Year), 1975, documentary, 29': a film-essay by Artavazd Peleshian (director x writer) and Mikhail Vartanov (cinematographer) about Armenia's shepherds, the contradiction and the harmony between man and nature; scored to Vivaldi's Four Seasons. This image shows a candle being carried in a marriage procession, 2022
xerox, wooden frame
31 x 23.8 cm
Courtesy of Tim Onderbeke

Off-site chandelier

Unknown
Chandelier (six-sided core with forged branches, flowers, leafs and dragon heads and crowned with dragon figure, copy of gilded dragon on Ghent Belfry tower) in Sain Bavo's Cathedral (Ghent), 1549
wrought iron
Courtesy of Saint Bavo's Cathedral

View this chandelier for free at St Bavo Cathedral 600 metres from the DING showcase.
Tim Onderbeke, Chiaroscuro I,
2021 (Pieter De Bruyne,
candlestick, 1985, gold and
silver-plated metal, 2
9 × 15.8 cm | Collection Design
Museum Gent)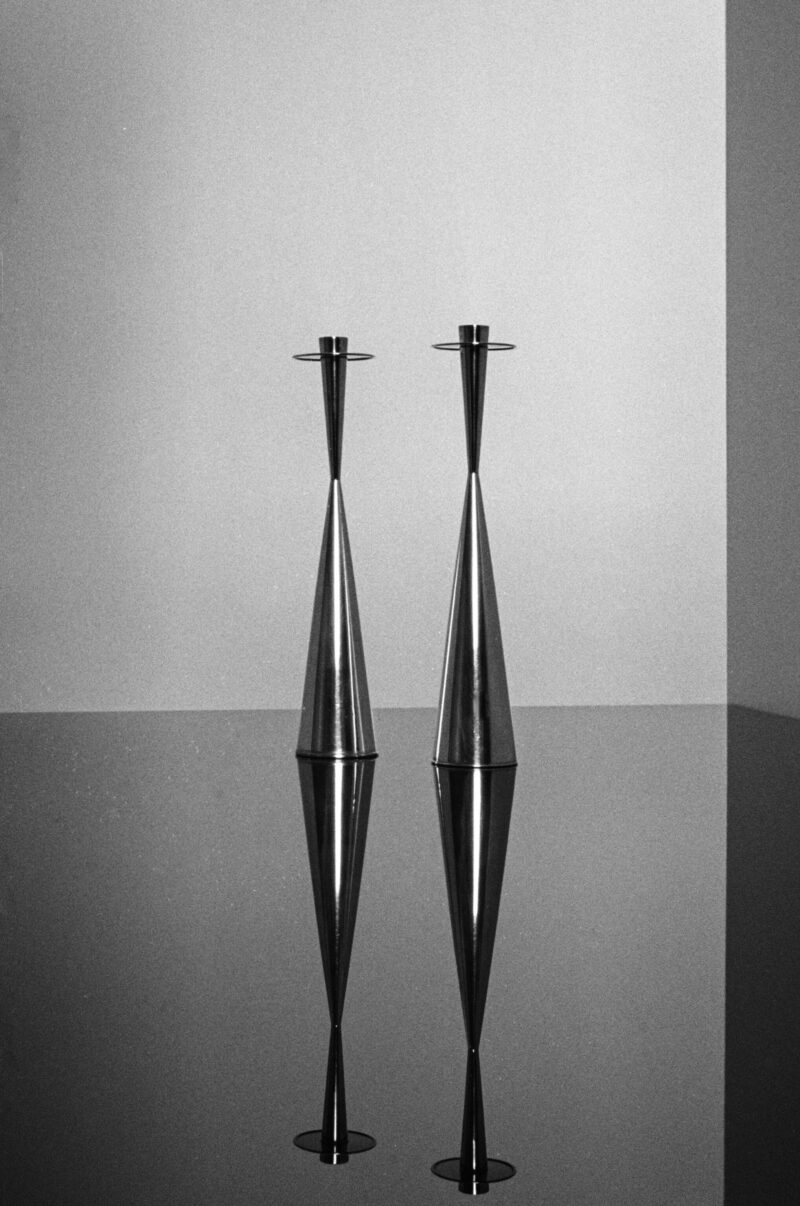 Tim Onderbeke, Chiaroscuro II,
2021 (Tapio Wirkkala -
manufactured by Kultakeskus
Oy, TW 189 candlesticks, 1957
(1961), silver, 23.4 × 4.8 cm |
Collection Design Museum Gent)
Tim Onderbeke, Chiaroscuro IV,
2021 (Damian O'Sullivan
(for Hermès), Étrier, 2013, RVS,
16 × 12.5 cm | Courtesy of
Damian O'Sullivan)