A slaughterhouse for a pendulum
A man who has just been released from his shackles stands next to an overgrown ruin. This 19th-century Empire-style grandfather clock may possibly be an allegory of man, who cannot stop the passage of time. Museum Arnold Vander Haeghen donated it to our collection in the eighties. The 18th-century dwelling in Veldstraat, in Ghent, where this museum has been located since the fifties, was occupied for 100 years by three generations of printers of the well-known Vander Haeghen family, from 1840 onwards. Possibly Eugeen Vander Haeghen (1829-1880) or his son Arnold Vander Haeghen (1869-1942) were the first owners of this clock unless it was acquired for the museum when it was established.
Michiel Hutsebaut became enthralled with the beauty and the superior craftsmanship of this French or Belgian grandfather clock. As part of his training as an interior architect, he was tasked with designing an imaginary 25-square-metre interior that could give one of the items in the collection a new lease on life. He was especially intrigued by the aspect of time, and the object's patina and ornamentation, which is why he designed a slaughterhouse for pigs for the clock, using these elements as his starting premise. A surprising, new vocation for this clock, after what seemed to be its last role as an object in the collection of Design Museum Gent.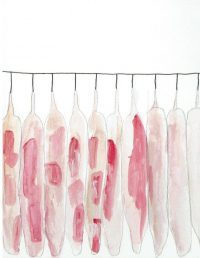 The slaughterhouse is a despondent, yet emphatic tribute to the clock. Because the clock directs all the activities in the interior. The space is efficiently organised around a curved rail which transports the pigs through the successive stages of the slaughtering process. Positioned in a niche in the wall, the clock determines the time and rhythm of these actions. The users experience a sense of visual pleasure every time they look at it while they perform their tasks. It also confers them a status, because of the luxurious materials - marble and bronze - and the technical skill with which it was made. On the other hand, the intensity of the bloody slaughtering process and the use of marble and travertine for the floors and walls create a rough, but lavish and authentic context in which the clock can function.
In 2017, 15 Master students who were studying interior architecture at KU Leuven (Campus Sint-Lucas Ghent) designed an interior for an item in the collection of Design Museum Gent. They did this in the framework of the design studio on Vraagstukken uit de praktijk and were supervised by i.s.m.architecten, Fredie Floré and Arnaud Hendrickx. The results were displayed in the exhibition Reactivate Design. New interiors for exceptional collection items. The grandfather clock is currently on display in the Catharina room of Hotel De Coninck. With thanks to Michiel Hutsebaut, who is employed by FELT architecture & design since 2018, and Sophie Balace (Cinquantenaire Museum, Brussels) and Eddy Fraiture (a clock historian) for the information they provided about this object.