connectDING
From Concept to Plan
After 30 years of waiting, Design Museum Gent is finally on the eve of the long-awaited expansion with its new wing DING (Design in Ghent), it is only logical that we decided to show what this expansion exactly entails and will look like in our final exhibition.
connectDING. From concept to plan shows the fascinating process in which Design Museum Gent went in search of the capstone that connects the three existing museum buildings.
"This capstone gives the museum the necessary space for a reception and shop, temporary exhibitions, workshops and education, lectures and events, art handling and logistics, new sanitary facilities and – last but not least - an elevator."
Sami Souguir, alderman for culture, City of Ghent
A search that began in 1993 and shifted up several gears with the launch of the Open Call by the Flemish Master Builder in 2018. The jury chose the design of the temporary team TRANS architectuur | stedenbouw (Ghent), Carmody Groarke (London) and RE-ST architectenvennootschap (Antwerp).
The final design, with which the exhibition starts, is the result of an in-depth investigation into sustainable museum architecture and an ongoing dialogue between the architects and the client, the City of Ghent, Design Museum Gent and project owner sogent (the Ghent Urban Development Agency) and the various services involved. Based on a selection of the 10,000 drawings, models, sketches, 3D renderings and material samples, you will discover how the design evolved from project definition through architectural concept to final plan. The various research projects into ecological and innovative building, such as the research supported by Flanders Circular to process waste streams from the city of Ghent into a circular facade brick for the new wing, will be explained in detail.
The architecture in DING will be reinforced by targeted design commissions that will be given to various established and young designers and textile designers via open calls, in close dialogue with the architects. The exhibition also gives a hint of this with work by Casimir, Chevalier Masson, Onbetaalbaar, Unfold and Bram Vanderbeke & Wendy Andreu. The design commissions are part of a growing narrative, which will continue after the opening as the crowning glory of the museum.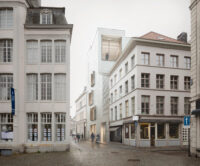 "This expansion and renovation are not about more museum, but about more than a museum."
Katrien Laporte, director Design Museum Gent