Since April 2021, a mock-up of the new museum wing DING (Design in Ghent) has been on display in the museum's inner garden. In contrast to most models, this mock-up is not a literal translation of the design, but a research model to test some materials and techniques such as the wooden CLT structure and the circular facing brick.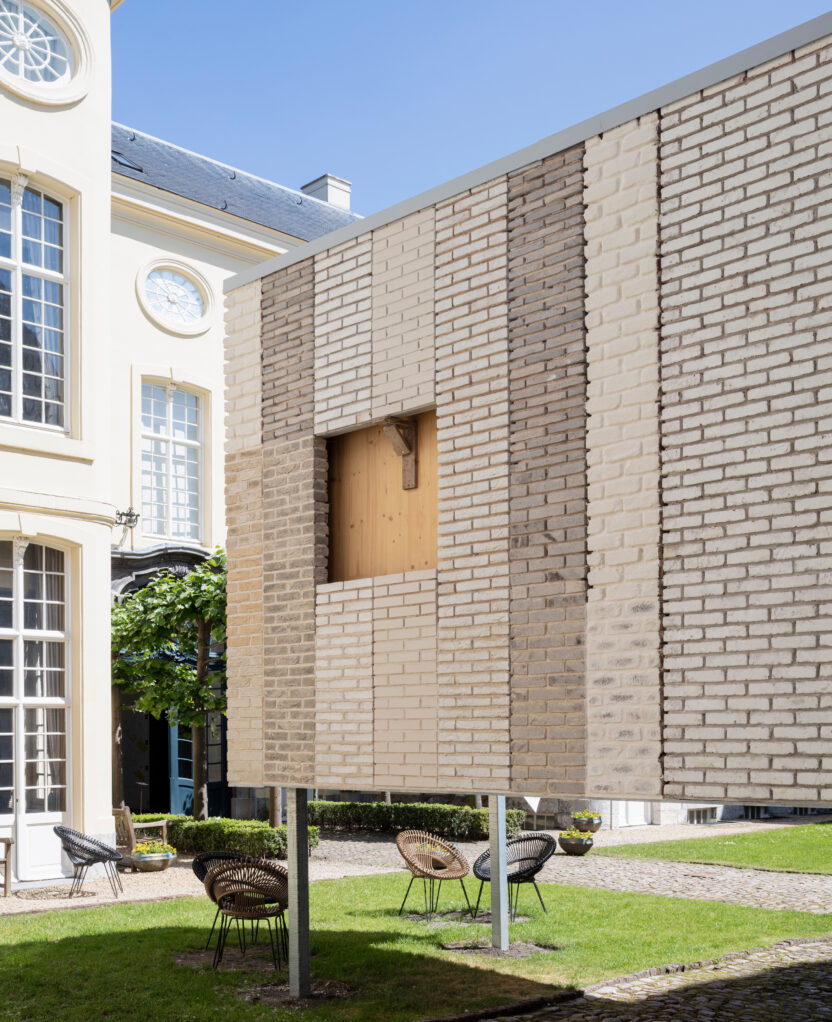 Design Museum Gent will be expanded with a new wing called DING (Design in Gent). DING will be a third place, which means that it will establish a link between the public space and the museum. DING will serve as a meeting place where visitors are introduced to the broad concept of 'design' and the museum's collection in an accessible manner, with attention being paid to digital disclosure and experience.
DING has been designed by TRANS architectuur | stedenbouw (BE), Carmody Groarke (UK) and RE-ST architectenvennootschap (BE) in partnership with the subcontractors Ney & Partners (Stability), Boydens Engineering (Techniques) and Daidalos Peutz (Acoustics). DING will be constructed between 2022 and 2024 on the site in Drabstraat where the large toilet roll is now located.
This mock-up is a full-size research model for DING. It shows a range of different materials and techniques that will be used in DING.
The DING project is centred around sustainability. Within the scope of the targeted call for circular construction economy, a subsidy has been granted by Circular Flanders / OVAM for the research conducted into a circular facing brick for DING. This mock-up is part of that research. It is our ambition to develop a circular facing brick on the basis of waste materials from the Ghent area. The various prototypes of circular and non-circular facing bricks will be tested on the outside of this 1:1 model. In addition, the mock-up consists of a wooden Cross Laminated Timber (CLT) structure that remains visible on the inside of the building. The solid wood floor joists will also remain visible, and climate-control ceilings (cooling / warming) will be installed between these joists. The roof will be finished in zinc.
Curious about which bricks are being tested? Take a look below or drop by in our inner garden. It is free to visit!
Legend facing bricks

A1 FRANCK | limewashed reclaimed bricks

A 2 FRANCK | limewashed reclaimed bricks

B LOCAL WORKS STUDIO | circular pressed brick o.b.o. earth and lime

C STONECYCLING | circular bricks o.b.o. clay [60%] + waste [40%]


D STONECYCLING | circular bricks o.b.o. clay [60%] + waste [40%]

E STONECYCLING | circular bricks o.b.o. clay [60%] + waste [40%]

F FRANCK | limewashed reclaimed bricks

G STONECYCLING | circular bricks o.b.o. clay [60%] + waste [40%]

H VANDEMOORTEL | non-circular facing bricks

I 1 FARINA | non-circular facing bricks

I 2 FARINA | non-circular facing bricks + jointed using special technology

J RÖBEN | non-circular facing bricks

K NELISSEN STEENFABRIEKEN | non-circular facing bricks

L VANDEMOORTEL | non-circular facing bricks

M 1 FRANCK | limewashed reclaimed bricks

M 2 FRANCK | limewashed reclaimed bricks + additional jointing

N VANDERSANDEN | non-circular facing bricks

O 1 reclaimed bricks

O 2 limewashed reclaimed bricks